Richard Pryor®

Pryor's Planet, A Saving Grace For Animals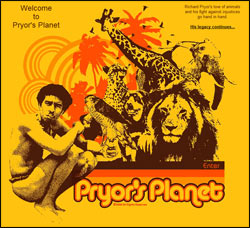 Please click the link below to see how you can help. Pryor's Planet tee-shirts are available for purchase, check out the dogs we have rescued that need new homes and animal news and updates.
Richard Pryor's love of animals and his fight against injustices go hand in hand. With your help, his legacy will continue to flourish.
Pryor's Planet is dedicated to helping grassroots efforts in saving lives, providing sanctuary and making the world a better place for all creatures.
Please Note: Pryor's Planet is a non-profit, 501c3 organization. All donations are tax deductible.
# # #