Please note that Rockin Pins will now fulfill all t-shirt orders on behalf of the Estate of Richard Pryor.
1963 Historic Mugshot Tee
*NEW*

LIMITED EDITION Rare Richard Pryor® Collector's Item!

Front: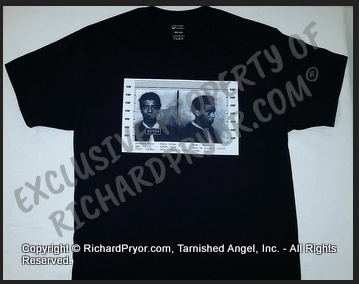 Front Details: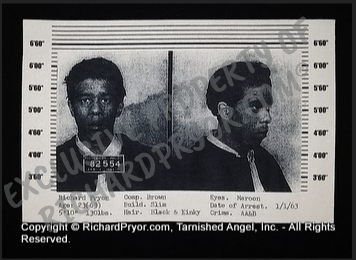 Back Details: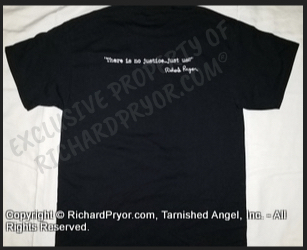 Exclusively available from the estate of Richard Pryor via Jennifer Lee Pryor (Tarnished Angel, Inc.). Richard Pryor's 1963 Pittsburgh Arrest Photo Tee. Note arresting officer's racist wording: "black & kinky" hair and "maroon" eyes. Back of tee displays one of Richard Pryor's most powerful quotes from his "Is It Something I Said?" concert performance.
Many today are still fighting against the same injustices that others, including Richard Pryor, fought against decades ago. The discovery of mugshot and release of this exclusive, rare t-shirt is important for many reasons, it's as if Richard Pryor is protesting right alongside everyone else today!
100% cotton, high quality t-shirt.
richardpryor.com displays and sells the only original item. No other seller is authorized to sell this item. Any other sellers or image marketers are using stolen property, which is beyond disrespectful to RP.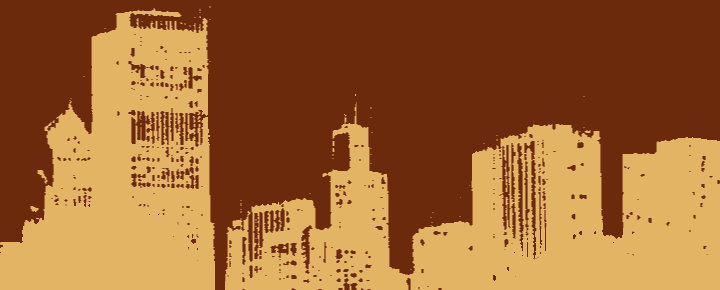 High On Fire t-shirts and other items, using name, likeness and image of Mr. Pryor, were NEVER authorized by the Estate of Richard Pryor. Anyone displaying, using or purchasing High On Fire t-shirts or related items, displaying Richard Pryor's name, likeness and/or image, is engaging in fraud and theft of property. All content will be reported to appropriate authorities for immediate removal and further legal action if necessary.
REGARDING CURRENT AUCTIONS: Not one auction house has contacted the Estate of Richard Pryor to verify authenticity of items being sold through their site or service.
Items from this
OFFICIAL Richard Pryor® store items have official and distinct Estate of Richard Pryor markings
and other information that you will NOT receive from counterfeiters, bootleggers and grifters, who are lining their own pockets from the designs and hard work of Mr. Pryor. All items on this Official Richard Pryor® site are available for purchase for PERSONAL USE ONLY. Neither of these items are available for, nor to be used for, reproduction. Any attempts to reproduce any of these items will be prosecuted to the fullest extent of the law.