Official Richard Pryor® Social Media
Make sure you're following the only authorized social media accounts for Richard and Jennifer Lee Pryor. Here's a helpful list to stay connected with the Estate of Richard Pryor and Jennifer Lee for news and information.
---
🌟 NEW!!! Official Estate of Richard Pryor® Collectibles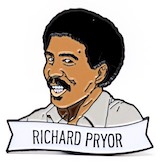 Custom, handmade memorabilia via RockinPins for the Estate of Richard Pryor. Check Them All Out! Order your limited edition collectibles today.
---
Re-issue of "Pryor Convictions"
Jennifer Lee Pryor will be reading from re-issue of Richard Pryor's auto-biography, "Pryor Convictions" on April 8, 2018 3pm at Book Soup in West Hollywood. Join us for this iconic moment and memory of the legendary Richard Pryor.
---

*NEW* LIMITED EDITION Rare Richard Pryor Collector's Item!

Exclusively available from the estate of Richard Pryor via Jennifer Lee Pryor (Tarnished Angel, Inc.). Richard Pryor's 1963 Pittsburgh Arrest Photo Tee. Visit store for more details.

United States Orders

International Orders
---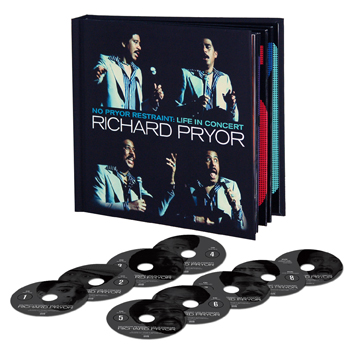 7 CDs and 2 DVDs with over 12 hours of hilarious Pryor stand-up.
Includes 3 complete concert films, the best bits from each classic album, and 2 hours of previously unreleased performances. Deluxe packaging contains essays, rare photos and celebrity tributes. More Info...
---
Tune into NPR Weekend Edition this Saturday, June 8th, 2013 to hear an interview with Jennifer Lee Pryor!
The interview airs at approximately 6:50am PT / 9:50am ET, and again at 8:50am PT / 11:50am ET. Also, if you're in the Los Angeles area, you can tune in to either KCRW or KPCC to listen!
---

Tune to SIRIUSXM's Foxxhole 96 for Richard Pryor Radio on Friday, June 7, 2013 11am PT through Monday, June 10, 2013 at 12am PT! Uninterrupted performances spanning his career
• Listen to a clip of Jennifer Lee Pryor talking about Richard Pryor on SoundCloud and accessible here: http://snd.sc/15HnCLs
• For a free 30-day trial, go to www.siriuxm.com/mysxm
---

Classic Richard Pryor Albums on Sale at iTunes!
Just added: long out-of-print comedy albums from Pryor's '70s heyday.
itunes.apple.com/us/collection/richard-pryor-$7.99-albums/id3?fcId=638871250

Pryor's Planet Open For Donations


Richard Pryor's love of animals and his fight against injustices go hand in hand. With your donation, his legacy will continue. Visit or click below to set a donation, all proceeds go to animal rescues and foundations across america.
---
United Animal Nations Help The Rescue Efforts After Hurricane Katrina


Any help you can offer to UAN will help with the animal rescue following Katrina. Please donate to UAN today!
---


OneSong: Lessons of the Silent Masters is beautiful and completely moving! From slavery to love, this story could be ours: the profound awakening of the human spirit by an animal. Our journey continues to lead us to an ever deepening connection to all that they give - love! We cried and then Richard watched me dance with the doggies!
---