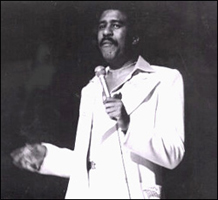 From Peoria, Illinois poverty to Hollywood affluence. From abandonment by his mother to adoration from millions of fans. From a childhood in a brothel to eight marriages (twice to the same woman) and seven children. From tragedy to triumph and back again, Richard Pryor has earned the status of Legend as a masterful storyteller, a multi-talented entertainer, a comic of acerbic wit, and a survivor with no self-pity.
Born December 1, 1940, Richard Franklin Lennox Thomas Pryor III became one of the most influential comedians in the history of comedy. Few comics today will talk about their own careers without mentioning the inspiration they received from Pryor. A talented yet controversial man, most people either love him unconditionally or hate him passionately, but few ignore him.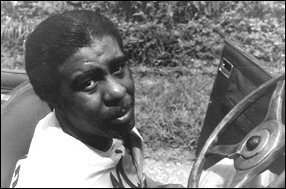 One of four children raised in his grandmother's brothel, Richard experienced rape at the age of six (by a teenaged neighbor) and molestation by a Catholic priest during catechism. He watched his mother perform sexual acts with Peoria's mayor. One way the young boy escaped from these traumatic experiences was to attend the movies. Seated in the "black seats" at his local cinema, Pryor consumed the screen worlds of such heroes as John Ford and Howard Hawks, stirring within a wild ambition to become a star like them. He was expelled from school for a petty offense at age 14, and began working as janitor at a local strip club, work as shoe-shine and "careers" as drummer, meat packer, truck driver, and billiard hall attendant combined to pre-ordain a perspective of the black underclass in 1950s America that Pryor translated into honest and hilarious routines.
Several brushes with the country's penal system gave him first-hand knowledge of the treatment of blacks within it. Ask anyone who has followed Pryor's comedy and the word authentic comes up. But, as the Grateful Dead sang, "What a long, strange road it's been" for the 65 years that Pryor blessed this earth. And, as Richard says, "I ain't dead yet, Muther Fucka!"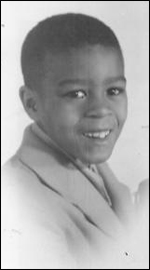 Pryor's first introduction to a life of performing came at age 12 when Juliette Whittaker, a supervisor at a public recreational facility in Peoria, cast him in a local production of Rumplestiltskin. Whittaker was so impressed by Richard's comic ability that she arranged talent shows to showcase him and continued to influence him throughout his career.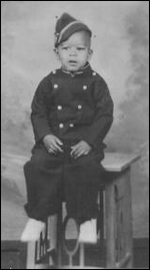 While serving in the Army (a brief stint 1958 to 1960 that ended when he had an altercation with a fellow G.I.), Pryor performed in many amateur shows. Upon his discharge, he got his first cabaret gig at his hometown Harold's Club, where he played piano and sang badly.
Quickly realizing that audiences preferred his jokes to his singing, Pryor began working as a professional comic in clubs throughout the Midwest. Inspired by Bill Cosby, Pryor went to New York in 1963 and gained recognition for his club work as a stand-up, performing on the same bill as such famous personalities as Bob Dylan and Richie Havens. While in New York, Pryor also garnered some mentorship from none other than the great Woody Allen.
In 1966, Pryor penetrated the medium of television, appearing in summer shows such as Rudy Vallee's On Broadway Tonight and the Kraft Summer Music Hall. These appearances, as well as several on the Ed Sullivan Show, and the Johnny Carson and Merv Griffin shows brought Las Vegas calling.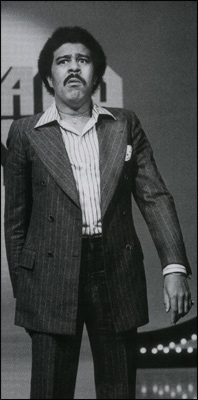 His first foray into Las Vegas was as the opening act for Bobby Darin at the prestigious Flamingo Hotel. But hipper and more controversial than Cosby and the other Vegas acts, Pryor found it difficult to conform to the constrained Vegas format and finally walked off stage during a show at the Aladdin in 1969. On a journey to hone his voice, Pryor moved to Berkeley, California and hung out with such counter-cultural writers and personalities as Ishmael Reed and Huey P. Newton. After a couple of years in Berkeley, Pryor hit Hollywood in touch with his very unique brand of comedy.
He turned to films, starring in The Busy Body with Sid Caesar, and the classic Wild in the Streets, and released his first album, Richard Pryor. More movies followed, including Lady Sings the Blues, which earned him strong notice as Billie Holliday's drug-addicted piano player. In all, Pryor, who in 1980 formed his own production company, Indigo (under the banner of Columbia Pictures), appeared in almost 50 movies, including several with Gene Wilder and the autobiographical Jo Jo Dancer, Your Life is Calling. Years before Eddie Murphy became the Klumps, Pryor took on three roles in the movie Which Way Is Up, appearing as a young man and his father as well as the wayward minister Lennox Thomas.
In 1983, Pryor was paid $4 million (a unprecedented amount for a black actor and a million more than the film's star Christopher Reeve) for his role as accomplice to the villain in Superman III. For the most part, Pryor considers his films undistinguished products from the Hollywood assembly-line, but amongst the formulaic slop there are black pearls of comedy that testify to his genius.
On television, Pryor headlined and received high accolades for two series: The Richard Pryor Show (NBC, 1977), which contained one of the most talked about show openings in the history of television, and the children's show Pryor's Place (1984). He also hosted the hottest show on American TV, Saturday Night Live, with fellow comic luminaries as Dan Ackroyd, Chevy Chase and John Belushi. After appearing in both dramatic and comedic roles in dozens of popular television shows, in 1991 Pryor was the subject of a well-received variety special A Party for Richard Pryor. His work also earned him such honors as NATO Entertainer of the Year Award (National Association of Theater Owners, 1982), Lifetime Achievement Honoree for the American Comedy Awards (1992), CableACE Best Entertainment/Cultural Documentary or Informational Special (1993), NAACP Hall of Fame Award (1996), and first recipient of the prestigious annual Mark Twain Humor Prize (1998).
But starring on television was not enough for this versatile entertainer and he began writing for shows as well, among them Sanford and Son and The Flip Wilson Show and most notably two 1973 Lily Tomlin specials, one of which earned him both an Emmy and a Writers Guild Award. At the same time, Pryor earned recognition for his directing abilities. His first screenwriting attempt (with Mel Brooks), Blazing Saddles, continued his success in this arena by earning him the Writers Guild of America Award for Best Comedy Written Directly for the Screen.
Pryor also tried his hand at authorship, penning (with Todd Gold) the autobiography Pryor Convictions: And Other Life Sentences which Pantheon Books published to widespread acclaim in 1995.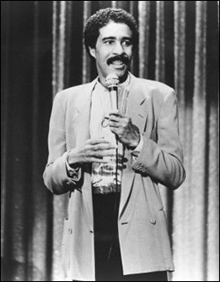 But Pryor is best known and loved for his live comedy where he presents the truth as he sees it in a hyperkinetic, expletive-laced, free-form style. His subject matter includes black life on the streets, the drug culture, sex, and other topical issues, including the many tragedies of his own life (cocaine addiction, tumultuous marriages, killing his car, two heart attacks and quadruple by-pass surgery, and the famous incident of setting himself on fire from which he suffered third degree burns over 50 percent of his body ). His visit to Kenya in 1979 was life-changing and resulted in a condemnation of the word nigger. His abandonment of the word in his stage performances attracted death threats, hate mail and attacks on his home from some deranged former fans. But he stuck to his beliefs, never losing any of his funny.
An astute observer of life, Pryor gave voice to such marginal members of the black community as bums, winos and junkies. Wino philosopher Mudbone is a beloved classic character. With Mudbone, as with all his characters, Pryor does not go for the easy ridicule but instead finds the precious humanity in even the most despicable. His White People characterizations are offered with such good humor and truth that those mimicked laugh the loudest. Pryor also gives incredibly real voice to such creatures as wild animals, his own pet monkeys, various dogs and his miniature horse.
Pryor's stand-up genius has been captured in four feature films, Live and Smokin' , Richard Pryor Live in Concert , Richard Pryor Live on Sunset Strip , and Here and Now (the latter also his 1982 directorial debut). His numerous recordings have earned him two platinum albums, five golds, and five Grammy's. The release on CD of several of these classic comedy albums (by Warner Bros. Records and Polygram, 2000) has brought a new generation of fans to Pryor's timeless look at life. Coming soon from Rhino Records is a new CD anthology.
But Pryor's comedy has more than entertainment value. When he received a star on the Hollywood Walk of Fame, Academy Award-winner Louis Gossett, Jr. credited Pryor as "the single most reason for us making it in this business. He made it possible for us [black people] to be in this business on equal terms." Composer Quincy Jones called him "a pioneer. . . who made us understand the truth about us." Indeed, Pryor's material is so socially astute and confessional that he continually expands our notions of what may be perceived as funny.
In 1986, Pryor was diagnosed with multiple sclerosis, a degenerative disease of the central nervous system. But that didn't stop his performing. In 1992 he could still be seen live at the renowned Comedy Store in West Hollywood, making jokes about his afflictions and his wheelchair and still painting incredible verbal pictures that stimulated the imagination of the audience so much they actually lived and felt the experiences with him.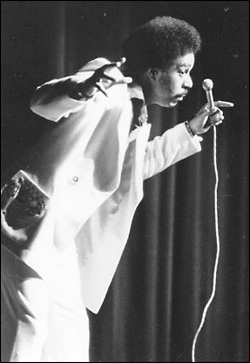 Richard Pryor may have been sidelined by MS, but he was so adamantly opposed to the use of animals in researching even his disease that he used his Christmas card to discourage donations to charities that still fund such tests. He's been honored by PETA, the People for the Ethical Treatment of Animals, for saving baby elephants in Botswana targeted for circuses. In 2000, as the Ringling Bros. and Barnum & Bailey Circus was preparing to open at Madison Square Garden , Pryor gave the Big Top's first African-American ringmaster something to think about. "While I am hardly one to complain about a young African American making an honest living," Pryor wrote in a letter to Jonathan Lee Iverson, "I urge you to ask yourself just how honorable it is to preside over the abuse and suffering of animals."
Pryor also crusaded against Burger King with Alec Baldwin. They sent letters asking owners of Burger King franchises to use their clout to get the fast-food corporation to meet or exceed the animal welfare standards set by its chief competitor, McDonald's.
Although his multiple sclerosis prevented him from performing in his last few years before his death in December 10, 2005, from his home in the Encino, which he shared with his two rescued dogs, Homer and Spirit, Pryor's mind continued to catalog the events of his life and the world around him. Richard Pryor will never lose his position as cultural icon and we can only hope that a cure to this debilitating disease will soon be found so as not to loose another soul that reaches out and touches as did Pryor and his ability to allow us to experience our reality with the outrageous, profane, and scabrous perspective that only he imparted.

Mother Gertrude nee Thomas, a prostitute, deserted him when he was 10; died in 1969.
Father LeRoy Pryor Jr. (aka Buck Carter), a bartender, boxer, and WWII vet, died in 1968.
Raised by grandmother Marie Carter, madam on Peoria's North Washington Street; died 1978.

Patricia Price (1960 -1967)
Shelly Bonus (1967-1969)
Deboragh McGuire (1977-1979)
Flynn BeLaine (1986-1987; remarried 1990-1991)
Jennifer Lee (1981-1982; remarried 2001 to present)

Actor Richard Jr. (1961), Elizabeth (1967), Actress Rain Pryor (1969), Stephen Michael (1984), Kelsey (1987) and Franklin Matthew Mason (1987).