Wednesday, November 14, 2007
Here's Your Chance To Buy Authentic Richard Pryor Memorabilia!
The 17 x 13 black framed case holds the clap-board used on the movie set for Jo Jo Dancer, Your Life Is Calling, starring Richard Pryor, has the original handwritten message from Richard Pryor to his camera man on the clap-board. The clap-board also comes with a photo of Richard Pryor directing that is suitable for framing and a Letter of Authenticity, signed by Jennifer Lee Pryor. Don't miss out on this chance to own an authentic piece of entertainment history!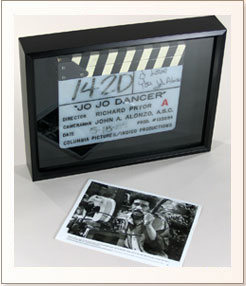 On November 12th, the Adrienne Shelly Foundation (ASF), a tax-exempt, non-profit organization dedicated to the memory of writer/director/actor Adrienne Shelly, launched its inaugural EBAY auction to raise funds for its various initiatives, which support women filmmakers. It's a little known fact that Adrienne was an EBAY POWER SELLER, an elite status reserved for only the most active sellers of merchandise. Operating under the name BUNNYSVINTAGE, Adrienne in her spare time bought and sold over 1900 vintage clothing items. We've taken that same passion and dedication which she had for EBAY and created a very special auction in her honor. The auction includes approximately 25 celebrity items and experiences; TV and movie walk-on roles; VIP show tickets with meet and greets; and movie premiere tickets. Featured items include lunches with Edie Falco, Cheryl Hines, Rosanna Arquette, Keri Russell, Paul Rudd, and Jeremy Sisto, as well as VIP tickets, backstage tours and meet and greets with Jon Stewart, Rachael Ray, Stephen Colbert, and the rock band Maroon 5. There are also signed items from celebrities that include Matt Dillon, Richard Pryor, and the Halo 3 XBOX 360 game actors. The auction runs through November 19th, 2007.